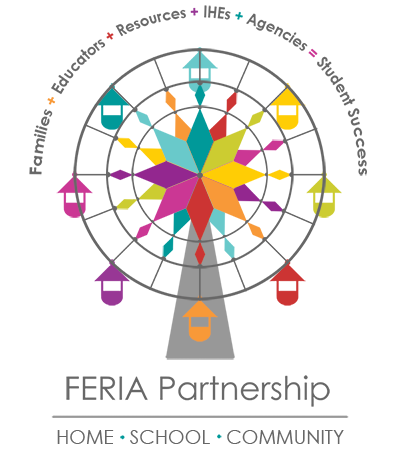 8va Conferencia Anual del la Asociación FERIA
8th Annual FERIA Partnership Conference
"Tu no estás solo(a): Juntos somos más fuertes"
"You're Not Alone: Together We're Stronger"
En coordinación con Disability Rights California, San Diego, CA
In conjunction with the Disability Rights California, San Diego, CA
---
Location, Date and Time
This year's 8th Annual FERIA Partnership Conference will be delivered via a Zoom Video Conferencing Platform in conjunction with the Disability Rights Center of California, San Diego State University, Dual Language and English Learner Education Department, Exceptional Resource Center, TASK, State Council on Developmental Disabilities, South County SELPA, MIND Institute, UC Davis and local school districts in the South Bay San Diego area as well as 12 FERIA Partnership organizations/agencies. The 8th Annual FERIA Partnership Virtual Conference will Virtually, to be hosted by the Disability Rights California from 8:00 to AM to 12:00 PM. The conference will be held in two sessions.
Session I – Saturday, 10/22/2022 – 8:00am-12:00pm
Session II – Saturday, 11/12/2022 – 8:00am-12:00pm
Lugar, Fecha y Hora
Este año la 6a. Conferencia Anual y Virtual FERIA Asociación será llevada a cabo en la Plataforma de Video Zoom en conjunto con el Centro de Derechos a Discapacitados de California, la Universidad Estatal de San Diego, Departamento de Lenguaje Dual y Educación de Estudiantes de Inglés bajo el Departamento de Educación, Centro de Recursos Excepcionales TASK, Consejo Estatal del Desarrollo a Discapacitados, SELPA Condado Sur, Instituto MIND, UC Davis y distritos escolares locales del Sur del área de la Bahía de San Diego así como 12 organizaciones/agencias de FERIA Asociación. La 6ta Conferencia Anual y Virtual FERIA Asociación Virtual será patrocinada virtualmente por Derechos a Discapacitados de California de 8:00 AM a 12:00 PM, dos sesiones.
Sesión I – Sábado, 10/22/2022 – 8:00am-12:00pm
Sesión II – Sábado, 11/12/2022 – 8:00am-12:00pm
---
Conference Offerings
The top parental involvement transformational practitioners from around the state and local school districts will offer presentations demonstrating evidence-based research practices, strategies and applications that will result in increased parental involvement, high expectations and achievement for all students (Cradle to College). There will also be a series of workshops provided in Spanish and simultaneous translators in English (one English workshop per session).
Ofrecimientos de la Conferencia
La alta participación de padres y la participación directa y transformativa de expertos en su materia en todo el estado y en los distritos escolares locales ofrecerá presentaciones en las que se tratará la investigación en base a evidencias, prácticas, estrategias y aplicaciones las cuales tendrán como resultado incrementar la participación de padres, expectativas y el alto rendimiento en los estudiantes desde la Cuna hasta la Universidad (Cradle to College). Al igual, habrá una serie de talleres presentados en español e interpretados simultáneamente al inglés (habrá un taller en inglés por sesión).
---
Targeted Audience
Designed for Spanish Speaking Latino parents with children with special needs and educators working with special education English Learners in a general and/or special education setting, instructional leaders as well as support staff. University graduate students enrolled at the San Diego State University in DLE and Special Education classes and local Universities are invited to attend.
Audiencia Destinada
Diseñada para padres Hispanos/Latinos de habla Español de hijos con necesidades especiales y para maestros de educación especial de estudiantes de inglés y en general y/o dentro del marco de educación especial, para líderes de instrucción, así como para el personal de apoyo. Estudiantes de Universidad de postgrado inscritos bajo DLE y en cursos de Educación Especial en la Universidad Estatal de San Diego y demás Universidades de la localidad quedan aquí invitadas a participar.
---
Sponsors

---
Contactos para la Conferencia / Conference Contacts
Registration Questions/Preguntas de registro • Dr. Rebecca Sapien-Melchor • (619) 890-6624
Parent Contact/Contacto con los padres • Beatriz Hernandez • (619) 708-6963
E-mail: [email protected]